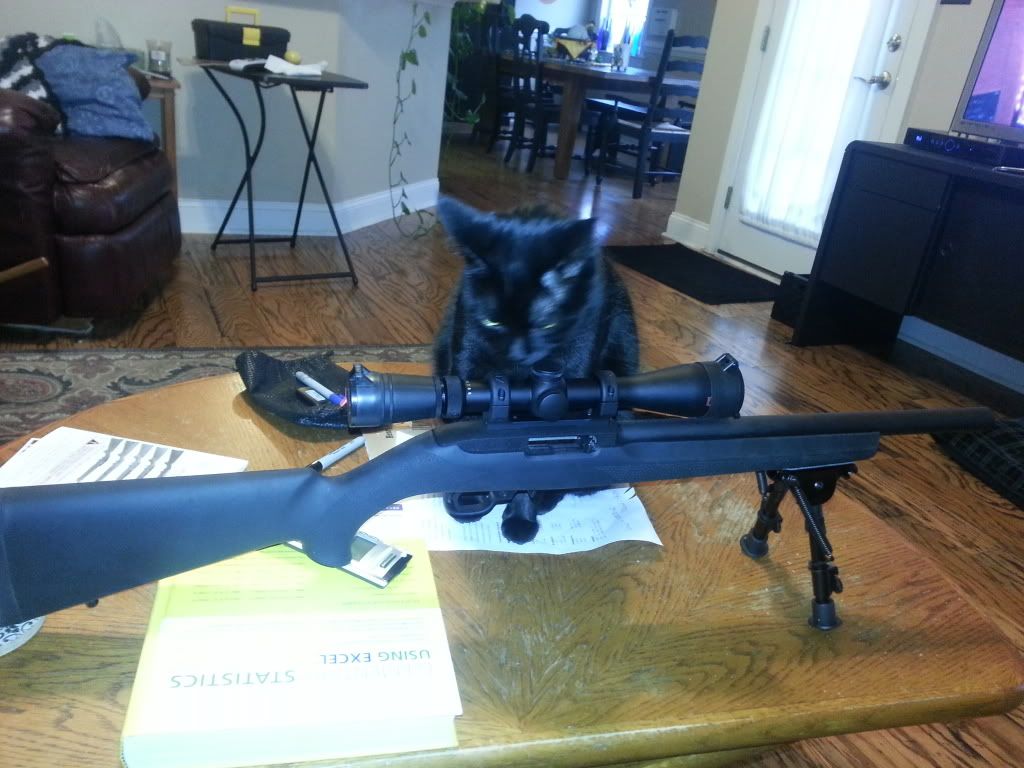 10/22 tactical
---
That's a nice rifle. I've been looking for one. Where did you find it?
---
at LGS just got a shipment in yesterday
---
Love the 10/22, wish I can find a used receiver to start a new one.
---
Senior Member
Posts: 3198
Joined: 08 Nov 2009, 21:01
You must be a mall ninja...even your cat is tactical black :p !
Nice rifle
---
Gold Member
Posts: 389
Joined: 22 Apr 2011, 08:13
Location: Newport, TN
woot! already have the rifle. Where can I get that cat?!!!
Karma. Serving up justice one a**hole at a time.
---
Competition/Training Mod
Posts: 10644
Joined: 11 Apr 2009, 14:28
custom title: UT/EA Pistol Captain
Contact:
KITTY!
Never attribute to malice that which can be explained by stupidity.
The shooter will always matter more than the gear ever will.
Stop relying on others to do the work for you.
Shoot more, worry less.

---
Gold Member
Posts: 4783
Joined: 25 Aug 2008, 21:42
custom title: Mtn Man in Flatland
Location: Great Plains, USA
That is what you call a tactical moving target. Meow...splat!
Killed Two Stones with One Bird.
---
Who is online
Users browsing this forum: No registered users and 1 guest