Small backstory. A good friend of mine is coming back from active duty for good in a few months. As a welcome home/attaboy gift, his parents are getting him a SCAR (lucky, right?). His dad knows that I know a bit about FNs and tapped me to spearhead this operation. Basically, he wants to do one of three things to the rifle to commemorate the occasion: engrave it, dye it black, or both.
The engraving shouldn't be too difficult with the rifle stripped. What he (and myself) is wondering is if the upper metal portion (shown below in color) can be pretty much made bare so that it can be coated to complete the black look. In looking at some of the field stripped photos of the rifle there doesn't appear to me much else to the upper once the barrel/piston assembly is removed other than the accessory rails and rear sight.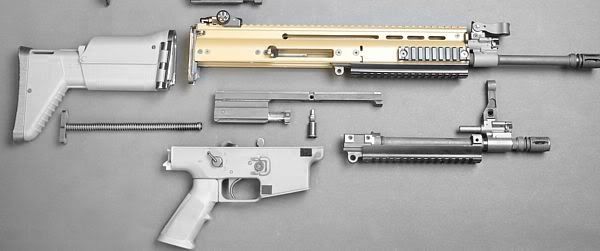 He's fine with the dyeing process, the man's a whiz when it comes to models and if it's plastic/polymer he's likely made it a different color. :laugh: Depending on how well it turns out I'll probably have him do mine as well once I get it.
So, lay upon me thine wisdom and I will share the process for those who can't wait or want to pay for a black SCAR.