FiveseveN Pistol Variants
--------------------------------------------------------------------------------
Questions on this subject come up pretty often so hopefully this thread will help clear things up. Below are pictured and described all the versions of the Five-seveN yet released:
Versions
Five-seveN
This is the original Five-seveN variant. It has a DAO trigger and no safety device. It is no longer in production at all (nor was it never made available commercially), so it's extremely hard to find and may sell for over $3000. Note the old FN logo on the frame and the smaller, fixed sights.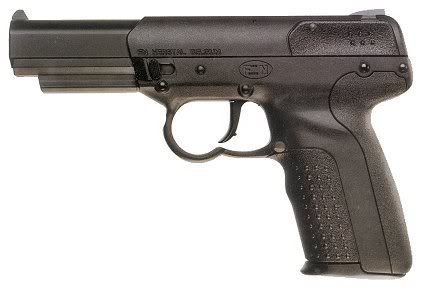 Five-seveN Tactical
This is the second Five-seveN variant introduced. It is the same as the first, except for a single action trigger (as opposed to the original being DAO) and the addition of a safety device on both sides of the frame. The slide release on earlier Tactical pistols was dark and of a different shape. Early Tactical pistols also had a dark safety device as can be seen in the left picture given below. Also worth noting is that the Tactical variant, which was previously restricted to law enforcement/military, was briefly made available to individual officers (under the name IOM) with capacity reduced to ten rounds by epoxying in a block of plastic in the bottom of the stack, and with serial numbers from the new IOM range (3861xxxxx). These guns were allowed into the country and a few have actually made their way to the open market. You can tell an "IOM" Tactical from a military/law enforcement only Tactical by first, the serial number is in IOM format (3861xxxxx), not Tactical format (386Mxxxxx). Secondly, the serial is embedded in a metal strip above the accessory rail instead of silk-screened onto the frame above the grip. Finally, the newer Tactical/older IOM has adjustable rear sight whereas the LE/Military Tactical had small, fixed sights (see below pictures). Five-seveN Tactical pistols are becoming rare and may sell for over $2000.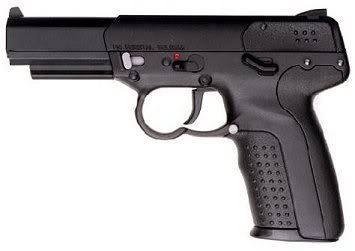 ___
Five-seveN IOM (Individual Officer Model)
The IOM variant is similiar in its basic design to the earlier Tactical variant, but differs in having an M1913 accessory rail, lined trigger-guard front strap, magazine disconnect ("magazine safety"), and taller, adjustable sights. It is only available in single action, similar to the earlier Tactical variant. The IOM is now discontinued and NIB usually sells for well over $1000.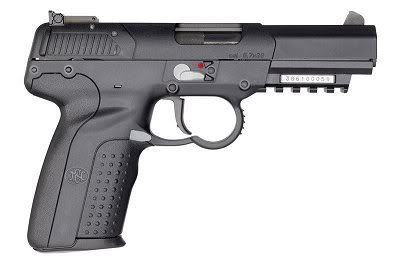 Five-seveN USG (United States Government)
This is the most recent version of the Five-seveN. The USG keeps the features incorporated in the IOM, such as the magazine disconnect ("magazine safety"), single action trigger, and tall adjustable sights, but has some differences. These include a square (i.e. conventionally shaped) trigger-guard, checkered grip pattern, and a larger, reversible magazine release. There has been some confusion between the IOM and USG. Just remember once again that no matter what your user's documents call your Five-seveN, if it has the square trigger guard it is a USG. According to FN, the name mixup is due to the transition between the IOM and USG versions. USG pistols labeled "IOM" or "IOM USG" aren't any different than USG's labeled "USG". An average price for a USG is about $800.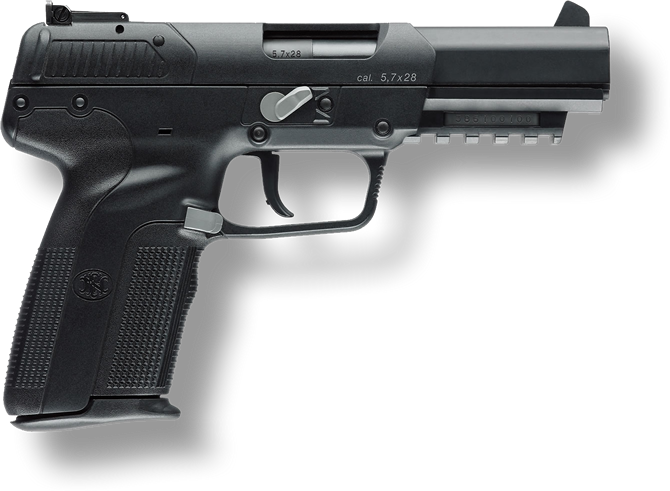 FDE:
ODG:
-----
Specifications
Weight Empty.................. 1.4 lbs.
Weight Loaded................ 1.6 lbs.
Height.............................. 5.4 in.
Barrel Length................... 4.8 in.
O/A Length....................... 8.2 in.
Sight Radius..................... 6.9 in.
Max Gun Width................. 1.4 in.
Max Grip Thickness........... 1.2 in.
Max Grip Circumference.... 6.0 in.
Trigger Pull....................... 5.5 lbs.
Trigger Span..................... 2.9 in.
These specifications and dimensions apply to all of the Five-seveN variants currently available, with the exception of the trigger pull on the DAO Five-seveN variant being heavier at about 10-14 lbs. Please note that (despite the rumors going around) a Five-seveN compact variant is not being planned at this time.

Latest generation commonly referred to as the MKII