This will be a review of the Steyr-Mannlicher M9-A1, successor of the venerable M9.
This pistol is based on the M-series platform of pistol manufactured by Steyr. First designed in 1999, the pistol has seen very little in enhancements or changes to its design or operation. The redesigned A1 models started production in 2004. This pistol has been chambered in 9x19mm, .40S&W and .357Sig. There are also compact variants of the 9x19mm and .40S&W under the S-chassis designation.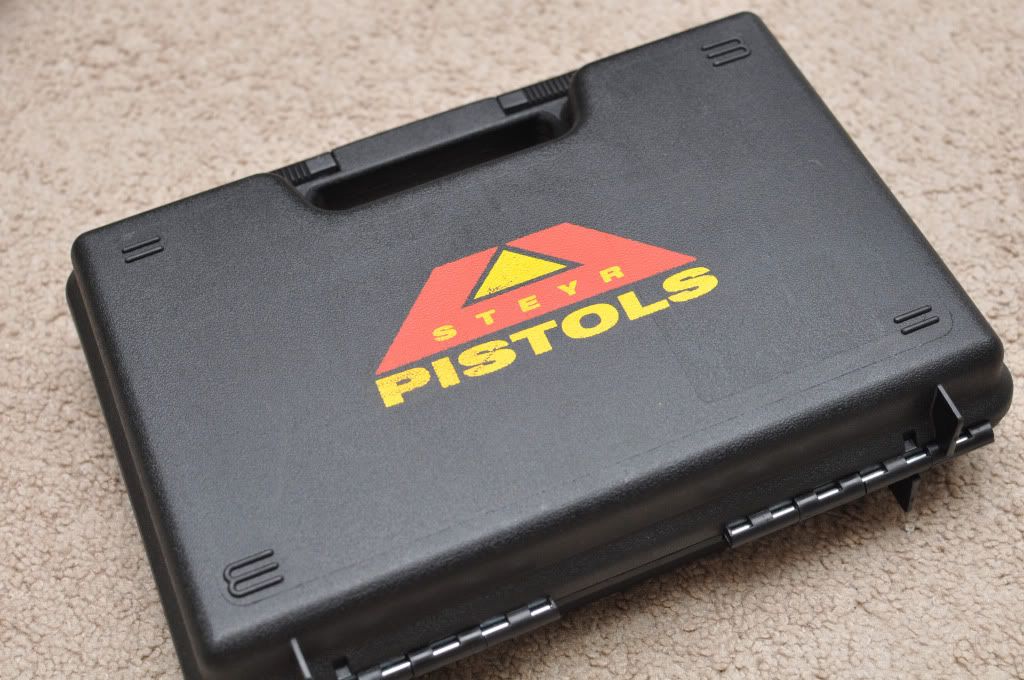 Let's take a look at the specs:
Chambering: 9x19mm
Magazine capacity: 15 or 10 round magazine
Weight: 1.7lb (780g) Unloaded
Trigger: DAO with integrated safety mechanism
Trigger pull: 4mm (.15")
Trigger weight: 4.6lb (2.08kg)
Sights: Fixed irons
Barrel length: 4" (101mm)
Barrel twist: 1:14
Accessory rail: Standard STANAG Picatinny
With that out of the way, on to the pictures!
Inside the case:
In the case you get two mags, two locks, two safety keys (more on these later) and the typical user/safety manual paperwork. Mine did not come with a factory target or casing, but it was purchased used so the PO probably threw it out.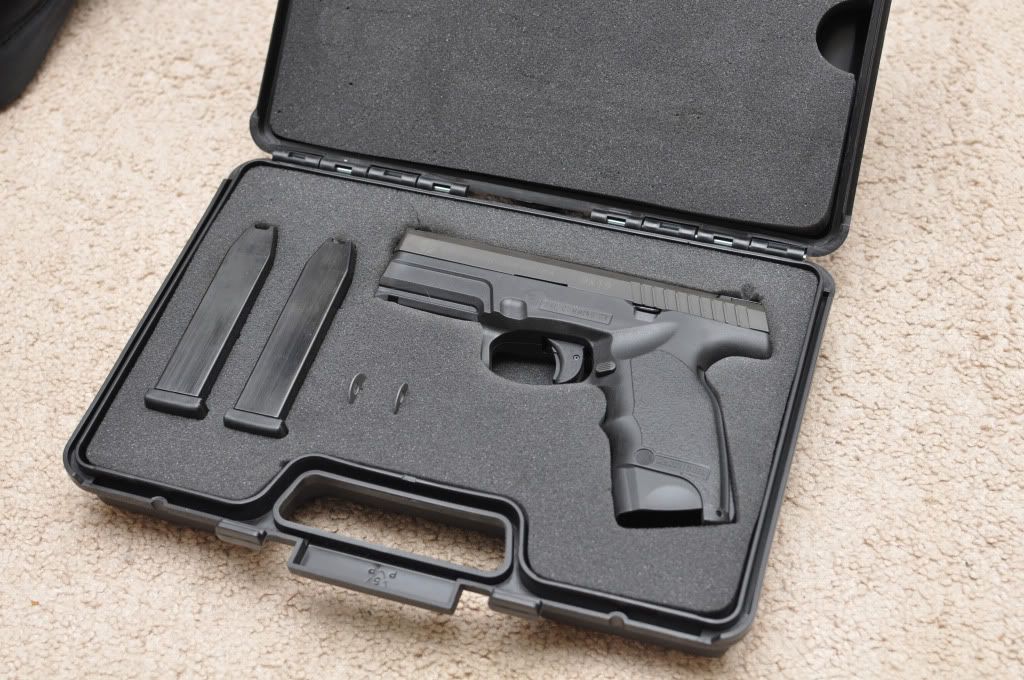 Controls/Ergo:
This pistol is very comfortable to hold. The grip angle is very natural, even though it is steep (111°), and the frame should fit well for both large and small-handed individuals. The grip has only one defined finger groove and then a small hump underneath to accommodate most shooters. The beavertail (or ski hump as P99 owners call it), or area where the grip curves backward to accommodate the slide is straight and makes the pistol easy to initially grip and release. All that said, some lefties may take issue with the controls. They are all on the left side of the pistol except for the takedown lever. This isn't really an issue as the mag release is easily manipulated with the fore or middle finger of the left hand and most people prefer the slingshot method of resetting the slide after locking it back anyhow. Right handed operation of the controls is easy and well-placed for thumb operating both the mag and slide releases. The slide release, in particular has a very nice angle to it that gives it both a low profile and an excellent area to grip with your thumb. Another note is that this pistol seems to preform similarly to my FN pistols in that slamming a loaded magazine home will cause the slide to release automagically. Some may see it as a safety issue, but I see it as a boon in having one less step to preform whilst reloading. I tested this several times at the range and every time it happened a round was chambered and fired safely, no feeding issues or unwanted discharges.
Moving to the left side of the pistol, you can see the magazine release and slide release. Both perform as expected. Magazines fall free with no scraping or rubbing inside the grip frame and insert just as easily. There is a slight resistance when inserting mags due to the magazine release mechanism coming into contact with the magazine itself, but it is easily overcome and hardly noticeable when doing fast magazine changes. The slide, while very slim, is easy to grasp and has ridges machined into the rear portion to aid in gripping it. I had no problem slingshotting the slide on reloads or locking it back for inspection/cleaning. While we're talking about the slide, let me say just how short it is. The slide itself is a scant .66" (17mm) tall. Compared to similar hammerless pistols like the Glock 26 (1.04" or 26.4mm) or XD (1.003 or 25.5mm) the overall profile of the firearm is very compact. Another thing I noticed is that this pistol is very solid. Not just in heft and feel, but every part of it is tight. I can shake it violently with a full mag or empty mag and the only rattle on the entire thing is the firing pin sliding back and forth in its channel. Cocking the firearm makes it completely silent.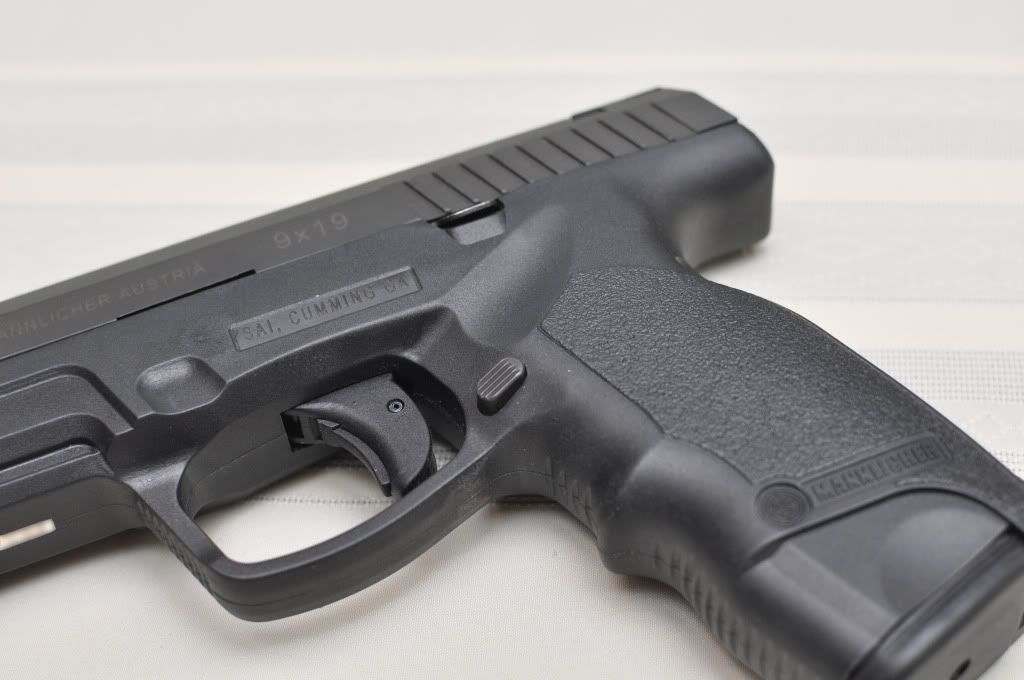 Magazines:
The M9 uses the standard double-stack box design. The magazines also have quantity indicators on both sides allowing you to know how many rounds (past 4) are in the mag instead of guessing between two or even 5 numbers. They do not have a hole for round 15, even though the magazine will hold that much, so that is kind of odd. Not as convenient as Glock magazines with the rear-facing indicators, but useful nonetheless. My one gripe with the mags is that the follower seems very prone to getting jammed. Just pressing on either end of it with my finger causes the spring and follower to pop into all kinds of weird angles. It never jammed, but worries me that it may be a possibility in the future. I'll probably tear down the mag one day and see if there is a way to correct this issue. The slot for the magazine release is a hefty 6mm so there's no danger of the mag ever falling out accidentally or not locking in place.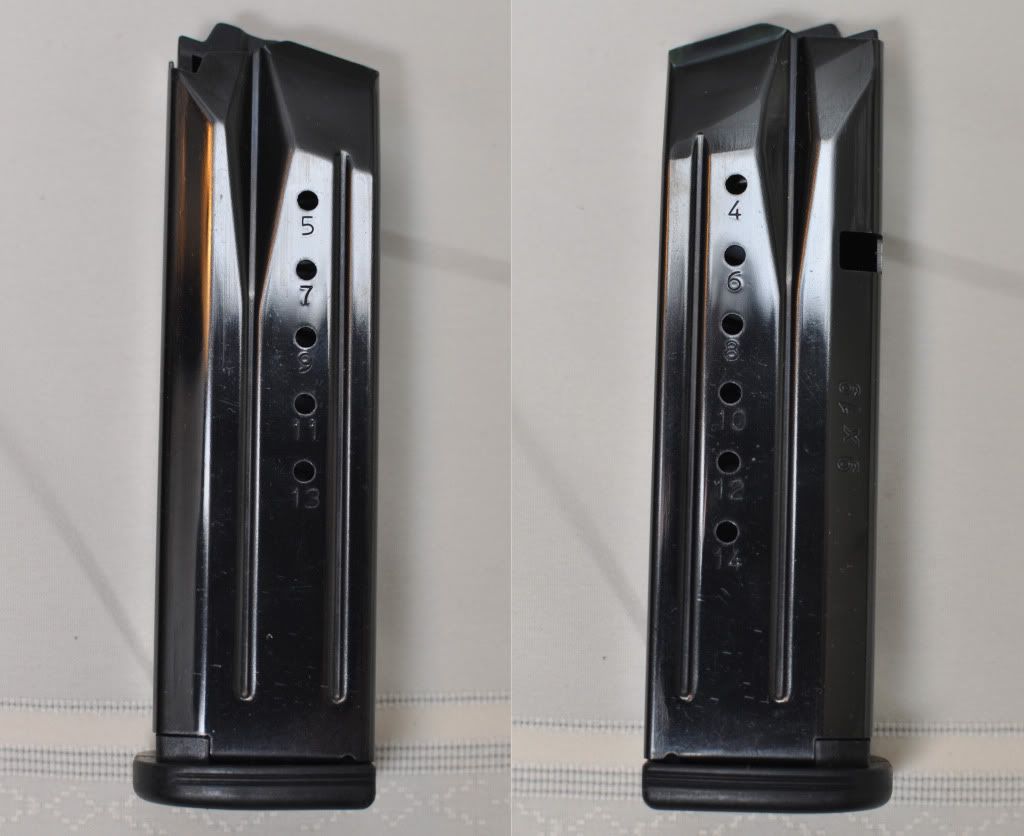 Trigger/Safety
The standard M-series pistols came with three safety features: trigger safety, manual safety and frame safety. The A1 pistols appear to have done away with the manual safety and retained only the trigger and frame safeties. The frame safety is operated using one of the supplied keys (mentioned earlier) and locks both the trigger and takedown lever so the can neither be fired nor disassembled. The trigger safety (pictured in cocked and uncocked positions) is similar in operation to those found on Glocks and XDs. Once the safety is disengaged, there is a short 4mm pull before the firing pin is released. The firing system itself is a striker-fire action which is fully enclosed in the slide. This allows for the pistol's incredibly low bore axis and low-profile slide. The trigger break is exceptionally clean and short with no grit or squish present. It is easily one of the best factory triggers I have ever felt on a pistol. On the rear of the slide there is a chamber indicator which will pop out slightly when a round is chambered offering both a visual and tactile signal of the firearm's condition. There is no magazine safety.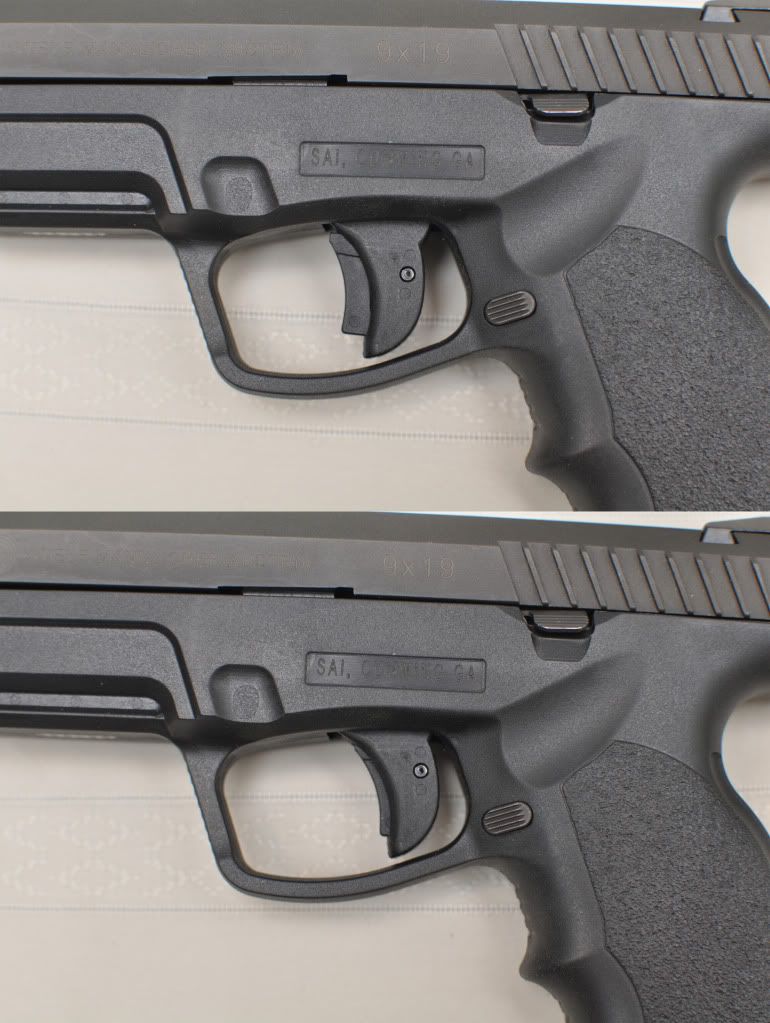 Sights:
These will take a bit of getting used to. That's really the best way to put it. Their trapezoidal design is pretty unique and at first glance looks like the stupidest thing ever made. As I began firing the pistol I quickly began to see why this design was chosen over the more traditional three-dot or valley designs. It is super easy to tell when your elevation or windage is off and can very easily be corrected. As someone with bad eyesight, these sights helped me tremendously as my depth perception is somewhat screwed up as well. After the first two shots, my groupings only got tighter and tighter. The sights also allow you to see more of your target and make follow up shots fast and accurate. These sights should really shine at distance, however. When I get a chance to make it to the outdoor range again I will be sure to push the limits of these sights and see how they perform.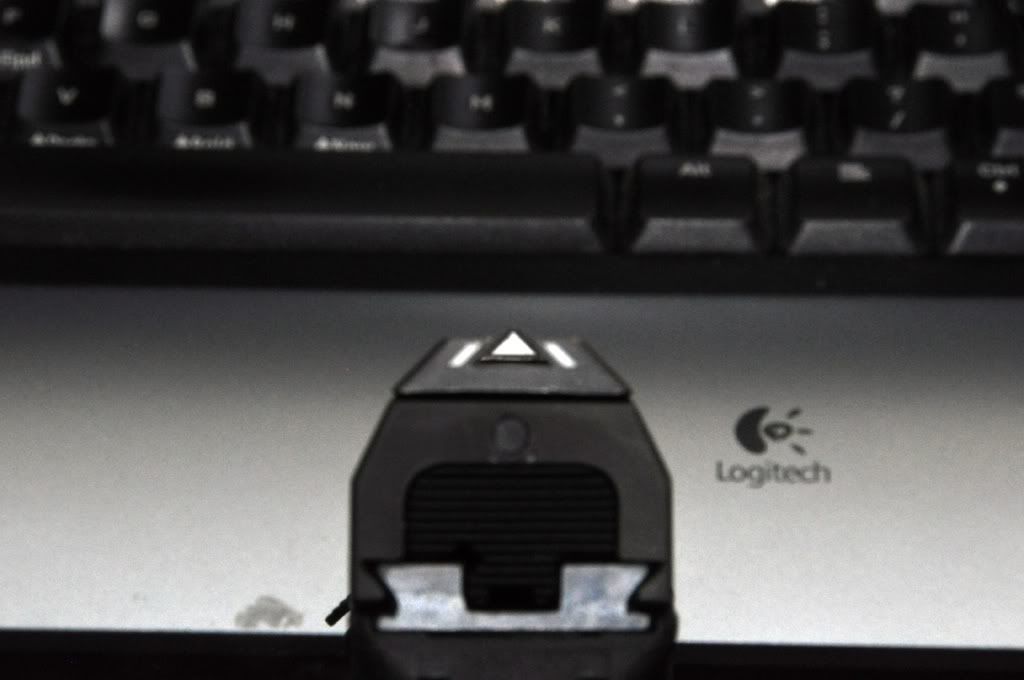 Maintenance/Cleaning:
Pretty much like every other firearm. Take it down, clean it, lube the slide channels, firing mechanisms and barrel, put it back together. What differs slightly, though is the actual takedown process. To begin, you dry-fire the pistol, then press down on the frame safety button to throw the takedown lever. Did I skip a step? Nope. You do not have to lock the slide back in order to actuate the takedown operation.
Once the takedown lever is thrown the slide will shift forward slightly and then slide free of the frame.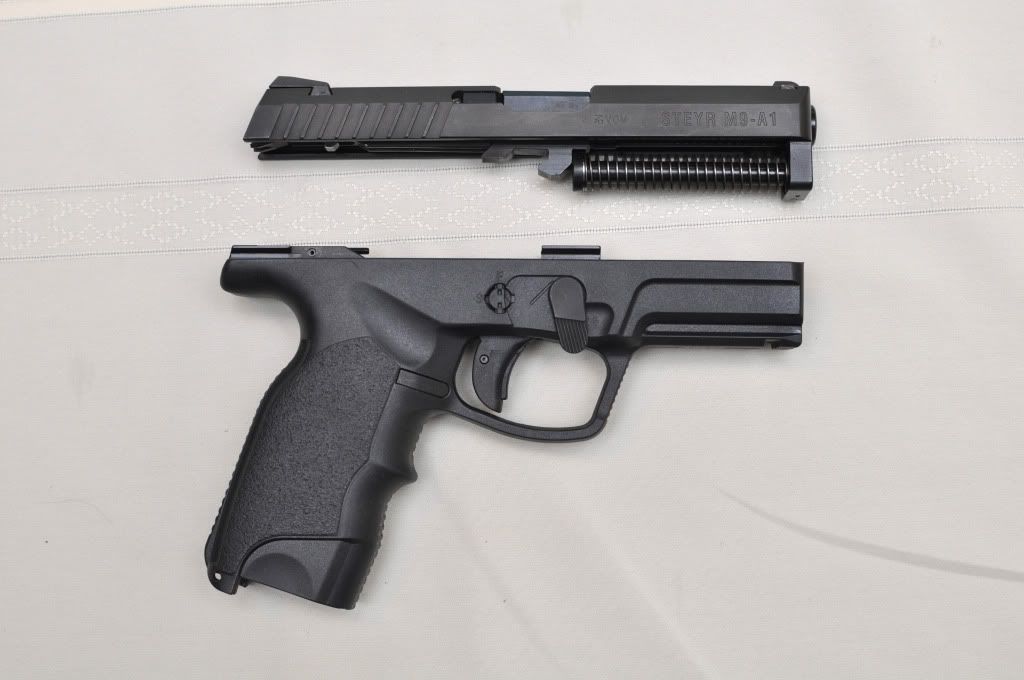 With the slide removed you can see it is like most other pistols consisting of the slide, guide rod/spring and barrel. Re-assembly is the reverse of disassembly. The takedown lever will automatically snap back into its locked position when the slide is fitted to the frame.
With the slide removed, here is a view of the firing system in the slide itself:
And in the frame. Even after 150 rounds, the inside was still very clean with very little debris. These photos were taken right after I got back from the range, no cleaning involved. The most grit seen inside the barrel before snaking it.
Here's something that caught my attention. Check out that feed ramp. Mirror finish on that thing. According to the shop this pistol had less than 100 rounds through it and is completely factory. Good on Steyr for doing little things like that to increase performance.
Here you can see the rifling of the barrel. Nice deep, crisp grooves.
Range Impression:
The gun performed flawlessly through 150 rounds with no FTEs or FTFs. Recoil was sharp, but very manageable. I believe that this is due to the gun's low bore axis. More recoil is going straight back than up and it certainly shows as barrel flip was virtually non-existent. Loading, chambering and firing were all done without any fuss or fiddling with the firearm. It was very simply point and shoot. I tried several different grip styles and all seemed to lend themselves well to this firearm with no one performing better than another. Muzzle flash is noticeable, but out of a 4" barrel it's not unexpected. Racking the slide with a full mag is no more difficult than with no mag at all. As seen in the picture, groupings are pretty consistent and easily maintained a 4" grouping at close range. This was my first target with the gun so the outer-most 5 or six shots were me getting a feel for the sights. I had better close range groupings but my other 7yd targets got swept up by someone else who thought they were being nice and cleaning up. >:| My best 7yd target was damn near one ragged 2" hole and was my second volley from the gun. Each volley consisted of two magazines.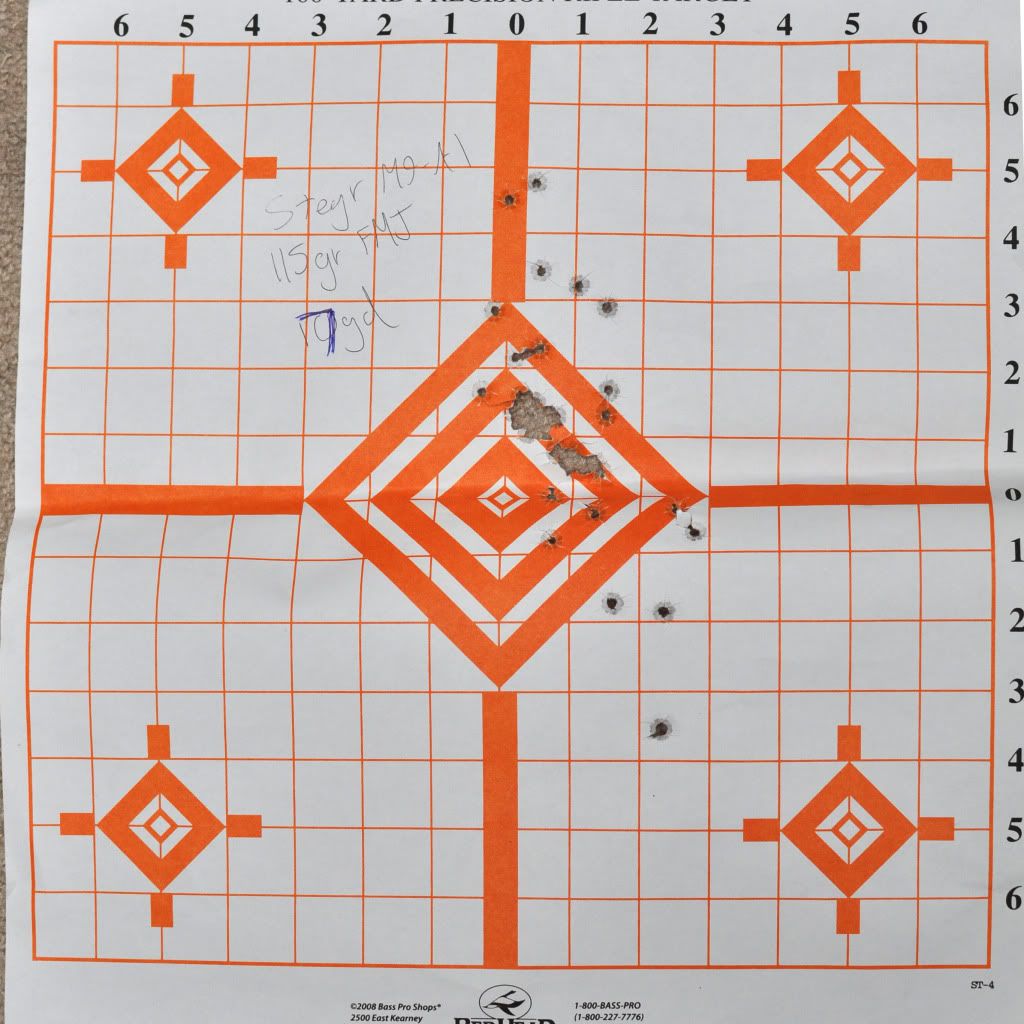 Taking it out to a slightly greater distance you can see the grouping opens up a bit, but still maintains a very tight pattern with a fairly solid 3" grouping discounting a few fliers. Next chance I get to shoot I should be able to easily cinch that down to a similar 2" grouping as the 7yd target. I wasn't able to run a target all the way downrange as my station's target runner got jammed up and wouldn't return.
AUTHOR'S OPINIONS (Read at own risk)
Right then, now that I've done the objective analysis of this stupendous firearm, it's time for my thoughts on it. Overall, I'm thoroughly impressed with this firearm. Its compact size, excellent follow-up shot performance and ergo make it an instant keeper in my book. My leftiness didn't impact operation and everything seemed natural and placed well on the firearm. The recoil was the biggest surprise on this to me. It's very un-9mm-like and kicks about like my .40. That said, however, the recoil was very manageable and follow-up shots were quickly placed. Doing snap firing from a high ready position was very quick and, again, allowed the sights to shine. It will be interesting to see how it performs when engaging multiple targets. I'll do a follow up report on that and longer distance shooting when I get out to the larger range. So aside from my magazine gripe and somewhat harsh recoil I really can't find anything I plain don't like about it. It functions flawlessly, accurately and above all else, safely. If you're in the market for a 9mm or .40 hammerless pistol, look no further.